The Democrat's nominee in New York's 27th congressional district nearly won in 2018. Now, attorney Nate McMurray is back trying to finish the job while calling for citizens to report Trump supporters.
Matthew Kolken   
@mkolken
Far left Democratic candidate for Congress calls for people to report "support" for Trump. The same candidate said if you support Trump you are a traitor, and hence guilty of treason.
This is a dangerous chill of 1st Amendment freedoms.

#

1A


Mark my words he is not an outlier.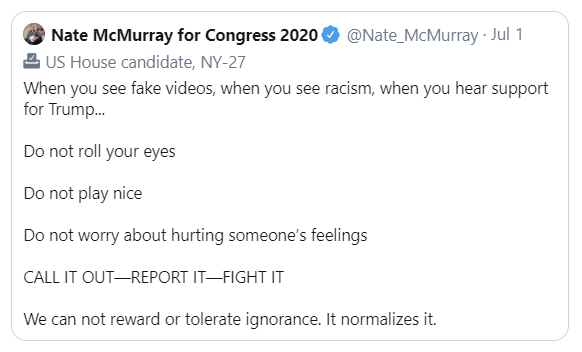 The calls won't likely resonate in the conservative Upstate New York district, especially since McMurray isn't running against a flawed incumbent like he did the last cycle. The former congressman, Republican Chris Collins, resigned his seat in 2019 after pleading guilty to insider trading and lying to the FBI.
Yet given the political climate, some fear McMurray's radical views aren't as much of an outlier as we'd like to hope. What do you think? Does Nate McMurray represent the modern Democrat Party more than historical figures like Harry Truman and John F. Kennedy? Share your thoughts with us below!
Read the rest at: Congress 2020